Structural Steel Fab & Install
When you need structural steel fabrication, it needs to be perfect. For most companies, structural steel is literally the foundation of the entire project. At CMS, we do not take that lightly. Our turnkey construction ensures your project is completed to your exact specifications, and our certified D1.1 welders quality standards ensure it's absolutely done right. 
Why Choose CMS for Structural Steel Fab & Install?
Experience & Expertise: Our team has extensive experience in structural steel fabrication and installation for various construction projects.
Quality & Precision: We prioritize quality craftsmanship and utilize advanced technologies to deliver structural steel solutions that meet the highest standards of accuracy and durability.
Safety & Compliance: We adhere to strict safety protocols and comply with relevant industry codes and regulations to ensure the well-being of our team members and the successful execution of your project.
Collaboration & Communication: We work closely with clients, architects, and project stakeholders to ensure that the structural steel fabrication and installation align with project requirements and objectives.
Timely Execution: We understand the importance of meeting project schedules. Our team works efficiently to complete the fabrication and installation processes on time, minimizing delays and disruptions.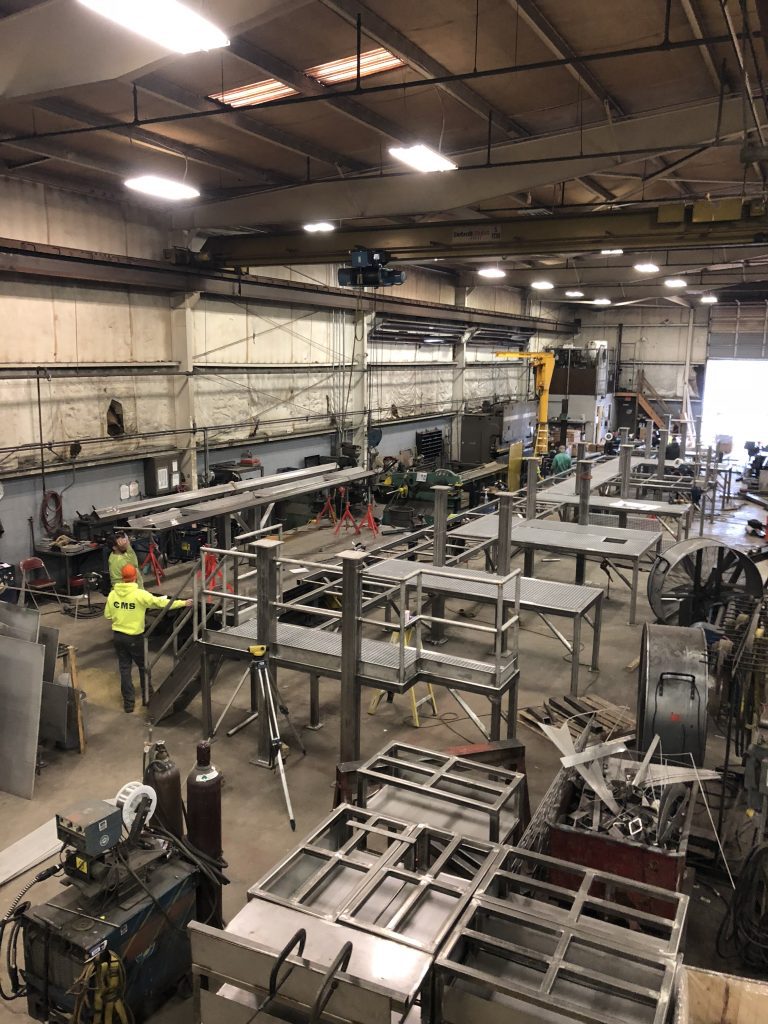 Structural Steel Fabrication:
Design & Engineering: Our experienced design team works closely with you to understand your structural needs and specifications. Using advanced software, we create detailed 3D models and engineering drawings that ensure accuracy and compliance with industry standards.
Material Selection: We assist in selecting the appropriate steel materials for your project, considering factors such as load-bearing capacity, corrosion resistance, and cost-effectiveness. We ensure that the chosen materials meet the required specifications and quality standards.
Steel Fabrication: Our skilled fabricators utilize state-of-the-art equipment and machinery to transform steel materials into precise components. We follow strict quality control measures throughout the fabrication process to ensure the highest standards of craftsmanship and accuracy.
Welding & Finishing: We employ certified welders who utilize various welding techniques to join the fabricated steel components securely. Our team pays attention to detail in the welding process, ensuring strong and durable connections. We also provide finishing services, such as surface treatment and protective coatings, to enhance the steel's longevity and appearance.
Structural Steel Installation:
Site Evaluation & Planning: We assess the site and conduct a thorough evaluation to determine the best approach for structural steel installation. Our team considers factors such as site conditions, logistics, safety requirements, and coordination with other trades.
Rigging & Lifting: We employ skilled riggers and operators who safely handle the transportation, rigging, and lifting of steel components. We ensure proper equipment selection and follow industry best practices to minimize risks and ensure a smooth installation process.
Assembly & Connection: Our experienced installation team precisely aligns and assembles the steel components according to the design specifications. We employ proper connection methods, such as bolting or welding, to ensure structural integrity and stability.
Quality Assurance: Throughout the installation process, we conduct thorough quality checks and inspections to verify compliance with design specifications and industry standards. We address any issues promptly to ensure the successful completion of the steel installation.
Explore Other Capabilities